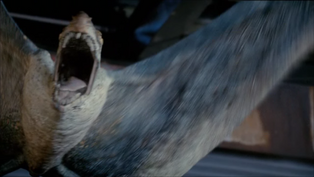 Anurognathus was a small pterosaur from the Late Jurassic.
In Walking with Dinosaurs
Time of the Titans
A flock of Anurognathus was seen clinging onto a herd of Diplodocus to eat the insects and parasites on it.
Ballad of Big Al
An Anurognathus was seen eating a solid Dryosaurus carcass.  Big Al eat the pterosaur afterwards.
In Primeval
Series 1, Episode 5
Series 5, Episode 5
Errors
Gallery