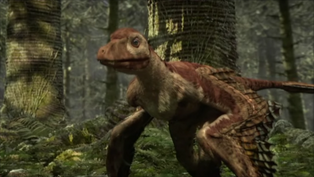 Sinornithosaurus was a dromaeosaurid dinosaur from Early Cretaceous China.  It was possibly the only venomous dinosaur.
In Planet Dinosaur
Edit
Sinornithosaurus appeared in the episode `Feathered Dragons` where it's first seen chasing a Microraptor through the trees.  The Sinornithosaurus eventually gave up.  It was later seen in a pack hunted a female Jeholosaurus who had young.  Using their venom, they successfully killed the mother.
Sinornithosaurus has an extremely similar model to Rahonavis in Planet Dinosaur.